I don't know why I like to punish myself and leave this to do in bunches of threes but here we are with another triple awards. I means I make more mistakes than usual as I've got weekly reports, rosters, spreadsheets and much more spread across 4 screens trying to do this before the kids need sorting!!!
Enough whinging, more enjoying NFL!
Eagles are still unbeaten but apparently haven't played anyone yet (Dallas without Dak is almost the same as with Dak and the Vikings are getting more love than the Eagles for some reason and we beat both of them!).
Jags at Wembley made me very sad. They were in control at the start of the game and Wilson looked like he had forgotten what a football was but that turnover on the 1 yard line changed the game. My wife has started supporting the Jags and it is turning into suffering every week and I might try and get her to move to a team like the Ravens instead so she can have a little success but not be a rival to the Eagles.
What is it about watching Aaron Rodgers implode and blame everyone but himself, that it is the greatest soap/drama right now? Hearing him say that players not playing well should lose snaps and then lose like that to the Lions?! You could see his receivers running completely different routes to the ones he expected, so is it miscommunication? Rodgers changing the play call the rest of the team not following? Receivers hating him right now so making him look bad?! I would like them to beat the Cowboys this week though!
Onto our league and the North is looking like it's usual, powerful self with the Wombats leading the way at 8-1 and the Bandits and Leopards not too far behind at 6-3. The South is damn close with both the Pythons and Sandslashers at 6-3 but the Sandslashers on a 4 game win streak. The Midlands has the Fireflies and the Otters tied for first but the average PF in the division is pretty far below the other divisions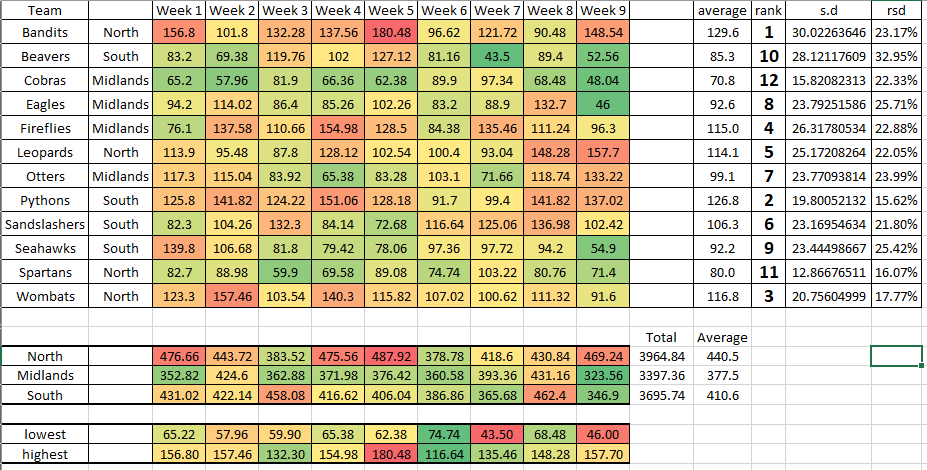 The Buzzsaw
Week 7
The Fireflies are the Titans of the UK Dynasty league, doing it with the running backs! Josh Jacobs had a favourable match up against the league's worst run defense in the Texans and he delivered with 155 combined yards and 3 touchdowns to score 35 points. Dameon Pierce, CEH and Rhamondre Stevenson all score well enough to outscore a couple of teams this week on their own.
Week 8
Mr Efficiency, Dermy to others, picked an almost perfect line up and after hovering around the 100 point mark for most of October, the Leopards explode with double digits for everyone except Joe Mixon (9.4 was might close though) and totaling 148 points and it was needed when going up against the second ranked Pythons (in points scored). Tony Pollard led the way with no Zeke in front of him to get 33.2 points and like the week before, a team starting four running backs is the buzzsaw.
Week 9
Week 8 was good for the Leopards but week 9 was even better! Joe Mixon "let the side down" last week but this week outscored 4 teams on his own and his 53.1 points was always going to put Dermy at the top of the weekly scoring. Even the amount of players on bye week didn't slow the Leopards down and it is crazy that they are still only 3rd in their division!!
Andover Sandslashers 🏆🏆
Flitwick Fireflies 🏆🏆
Lurgan Leopards 🏆🏆
Nottingham Bandits 🏆🏆
Wigan Wombats 🏆
Highest Point Scorer
Week 7
Joe Burrow, where have these performances been this season?! 481 yards and 3 touchdowns passing, 25 yards and 1 touchdown rushing against the Falcons followed up a very good week 6 and maybe the Superbowl hangover is wearing off. His 39.24 points accounted for 40% of the Cobras points in their first win of the season!
Week 8
If only I had written this piece after this week, maybe I'm selling Kamara at a premium as he tore through the Raiders in the blowout win, earning 38.3 points. I'm 99% sure that if the Saints had a QB that opponents even respected a little bit, Kamara would be having weeks like this all the time, not to mention his playoff schedule is looking nice against the Falcons, Browns and probably resting Eagles…. (sorry for the sales pitch, I'm not used to giving up on a season so early!)
AJ Brown, CMC, Derrick Henry, those are the names of the players that you expect near the top of the weekly ranking and they all put up over 35 points.
Week 9
Holy shit Joe Mixon, talk about beating up on a team when they are down! 5 touchdowns were the stat we would be waiting for all season and he does it with over 200 yards to boot. A friend of mine had him on the bench (had Jones and Kamara) and is contemplating giving up fantasy football but Dermy isn't!
Crazy thing is that Justin Fields had a day and his 42.7 points would normally be more than enough to take top spot but he was 11 points short!!
Coventry Eagles 🏆
Cymru Cobras 🏆🏆
Lurgan Leopards 🏆
Oxford Pythons 🏆🏆🏆🏆
Oxford Seahawks 🏆
Unluckiest Loser
Week 7
103 points isn't an amazing score but considering the Beavers only score 43.5 points, the Spartans must cursing that week 7 counts exactly the same for both teams. Chris' 4th highest score would have beaten the division leading Wombats, the division leading Pythons or the (ahem, not division leading) Cobras, all of who won this week but Scott's Sandslashers have the South title in their sights.
Week 8
Urgh, losing the week with the second highest score is a disgusting feeling and Olly must be sick at getting 141.8 points only to lose to Dermy's 148.2 points. In fact, that was the 7th highest score of the season so far (as of week 8) and it lost to the 6th highest score of the season so far. If it is any consolation, both teams scored 99.1% efficiency so there was nothing the Pythons could have done, the Leopards brought their A game.
Week 9
Can I change this as I feel that Dan should not be winning with a score of just 54.9!!! The top five scoring teams all won their matchups in week 9 with the 6th best team, the Fireflies losing to the second best Bandits, but seriously, winning with just 54 points?!?!?! Sorry to focus on it when I also did some abysmally but the rest of the results are pretty much as expected!
Chippenham Beavers 🏆
Coventry Eagles 🏆
Flitwick Fireflies 🏆
Gateshead Spartans 🏆
Lurgan Leopards 🏆
Oxford Pythons 🏆🏆🏆
Oxford Seahawks 🏆
Worst Decision
Week 7
Starting a QB on bye and still getting a 97.7% efficiency rating? Yeah my team isn't very good anymore. Not seeing Heinecke on the waiver wire was a stupid mistake but it wouldn't have tipped the balance of the tie with the Bandits.
The Fireflies starting Renfrow over Hardman might be worth considering as Renfrow has almost disappeared this season with the arrival of Adams and the coaching of McDaniels whilst Hardman's role has been increasing each week and the match up with the niners was likely to be a good one and a game with decent scoring. Feels like nitpicking, especially as it didn't matter to the outcome.
The one that cost the win was the Leopards starting Rashard Higgins over Tre'Quan Smith or Greg Dulcich. Higgins had, and still has, zero points on the season but Dulcich and Smith had just come off an 11 point games the week before and starting either one of those and the Leopards win so that is this weeks "winner".
Week 8
Dalvin Cook benched in favour of Chase Edmonds or Josh Reynolds or Robert Woods??! Looks like a case of not seeing that he had come back from the bye week by the Beavers.
Why do the Spartans keep starting Kenrick Bourne? 25 points on the season puts him in the same range as Chris Moore and Ray-Ray McCloud so surely Demarcus Robinson should be in the mix with the dodgy Ravens WR room.
Seriously, who starts Joe Mixon over Greg Dulcich?!?! C'mon Dermy! Renfrow is killing you Michael! For his sake and yours, put him on your bench so you don't lose by 0.08 points!!!
I had to check to make sure but I think that Matt Ryan was ruled out quite early in the week so starting him over Russell Wilson who was in the UK is a ballsy move by the Seahawks? Revenge for leaving? Think he was that bad that zero points would be better than he would get (which looked that way in the first quarter!)?
Fireflies "win" the week.
Week 9
Can I nominate my entire roster building? No active QBs due to injury and trades, forgetting that Cooks was still in after TNF, Ben Skowroenk…… I'm the Jim Irsay on this league, slowly dismantling a team that had success years ago and looking into the abyss.
Nothing else really stands out so I'll be punishing myself with this award.
Andover Sandslashers 🏆🏆
Coventry Eagles 🏆🏆🏆
Flitwick Fireflies 🏆
Gateshead Spartans 🏆
Lurgan Leopards 🏆
Oxford Pythons 🏆
Closest Matchup
Week 7
The Cobras win! The Cobras win!
It was a close one with just 4.3 points in to but the Cobras beat the Leopards 97.3 to 93.0 to get their first and possibly only (sorry Jason) win of the season. Doesn't matter that it was the 8th highest score of the week or that the Leopards efficiency rating was only 89.1% or that both teams had players that didn't score, it was Joey Burrow who made the difference.
Week 8
0.08 points is a sickening margin to lose by but it is an amazing margin to win by! That is just 1 more rushing yard or 1 more receiving yard or just 2 more passing yards! A toss being considered a pass or a ref giving a favourable spot! Parker not getting injured during the game!
Is this the closest to a tie we have ever had? Wombats don't care, the number 1 seed is all that matters.
Week 9
U-G-L-Y matchup between the Seahawks and the Cobras is also the closest game of the week, probably because the scores were so low. 54.9-48.0 is a 6.9 difference in a week full of blowouts. The rest of the margin of victories were all above 40 so the Seahawks are the winners in the race to the bottom.
Cymru Cobras 🏆
Derby Otters 🏆🏆
Flitwick Fireflies 🏆
Gateshead Spartans 🏆
Oxford Pythons 🏆
Oxford Seahawks 🏆
Wigan Wombats 🏆🏆
Most Impactful Injury
Week 7
Breece Hall is an easy one for this week as the Cobras were seeing him and Burrow as bright lights to build around. Hall had more than double the points of anyone in the Cobras backfield, so replacing him isn't an option. D'Onte Foreman happened to explode the following week but Juszcyyk, Pacheco and Forman together don't equal Hall.
Only other mention is Metcalf going into the locker room might have been an injury or a toilet break but he is doing fine.
Week 8
Kupp staying in the game at the end of a bad loss was almost punished as he seemed to suffer an ankle injury but he came back in week 9 looking as good as ever.
Irv Smith went onto IR which is bad for this season but what might be worse is that the Vikings traded for TJ Hockenson so his long term future in Minnesota might be in doubt. The Wombats have Andrews and Conklin, so should be able to survive.
Wombats are the only team this week to lose a player outright.
Week 9
Romeo Doubs is about the only player I can find that suffered and injury but his currently the Sandslashers 5th best receiver!
Evan Engram is hurt but it doesn't affect my Eagles much so I stick with Doubs.
Andover Sandslashers 🏆🏆
Cymru Cobras 🏆🏆
Derby Otters 🏆
Flitwick Fireflies 🏆
Gateshead Spartans 🏆
Wigan Wombats 🏆🏆
Roll of Honour
Oxford Pythons 🏆🏆🏆🏆🏆🏆🏆🏆🏆
Andover Sandslashers 🏆🏆🏆🏆🏆🏆
Flitwick Fireflies 🏆🏆🏆🏆🏆🏆
Cymru Cobras 🏆🏆🏆🏆🏆
Coventry Eagles 🏆🏆🏆🏆🏆
Lurgan Leopards 🏆🏆🏆🏆🏆
Wigan Wombats 🏆🏆🏆🏆🏆
Gateshead Spartans 🏆🏆🏆🏆
Oxford Seahawks 🏆🏆🏆
Derby Otters 🏆🏆🏆
Nottingham Bandits 🏆🏆
Chippenham Beavers 🏆